Hay Tarps
Reused vinyl billboard tarps are ideal for covering hay. They come with 3-4″ wide pipe sleeves around all four sides, perfect for tie-downs. We also make hay tarps with new vinyl as well, available in multiple weights.
Waterproof, UV protected, anti-mildew PVC vinyl
3-ply vinyl design is heavy-duty and tear-resistant
Pipe sleeves/pole pockets around all four sides for tie-downs
New vinyl hay tarps available in multiples weights
Custom new and large sizes available HERE
---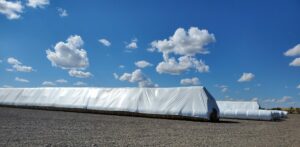 The Cost-Effective Way to Cover Your Hay
As a farmer you need durable and weatherproof hay tarps to protect your hay from the elements. Bad weather can damage your hay and reduce its quality, costing you time and money. Why not choose an inexpensive solution from an environmentally friendly hay tarp supplier?
At Billboard Tarps we sell former vinyl billboards for reuse as hay tarps. We have high quality vinyl tarps available in a wide variety of sizes... at unbeatable prices. Since you're also helping the environment by reusing materials you can feel good all-around about your purchase.
Our strong, heavy-duty hay tarps have 3″ wide pipe sleeves around all fours sides that can be used to secure the material. These tarps are much stronger than fragile polyethylene tarps and will protect your hay through all weather, temperatures and conditions.
Read More
There are many ways to tie-down vinyl hay tarps, but one way involves running rebar or PVC piping through the pipe sleeves and then cinching it to the ground with ropes and stakes. Most of the billboard vinyl tarps already have slits or notches cut in the pipe sleeves every few ft., but you can always cut your own without risk of additional fraying.
Read less